Let Me Introduce Myself

Whether you are looking to enhance your space for functional or aesthetic purposes or transform an ordinary home into an extraordinary listing, Kathleen Barlotta Designs offers a full array of effective interior design and home staging services throughout the Northern New Jersey and New York tri-state region. 
As the founder and owner of Kathleen Barlotta Designs, LLC (KB Designs), Kathy applies her more than 25 years of layout and design expertise to a comprehensive array of home staging and interior decorating services. Her extensive experience, specialized training, and strong spatial sensibilities enable Kathy to easily visualize the inherent design or staging potential of any home or office. Kathy's collaborative approach to working with each client, always mindful of their vision, taste and style, is the cornerstone of Kathleen Barlotta Designs' success.
With a Bachelor of Fine Arts (BFA) degree in Layout and Design from Kutztown University, Kathy gained a decade of experience as a graphic artist, art director, and marketing display coordinator for a wide range of clients including Fuji, Pepsi, New York Institute of Financing, and the PC Expo Show. She then transitioned her design focus to the home, concentrating on both interior decorating and home staging services. Kathy is now an Accredited Staging Professional® (ASP®) from Stagedhomes®, which is recognized as the leading international training organization for home staging professionals. Kathy's training includes instruction based on the strict guidelines and proven staging techniques developed by Barb Schwartz, creator of the home staging concept. Kathy is also a member of the International Association of Home Staging Professionals® (IAHSP®), a professional home staging association emphasizing education and business ethics.
What's the Buzz About Kathleen Barlotta Designs?
---
"I was selling my house during the low point in the real estate market, and I didn't even know what a "home stager" was. After an unsuccessful attempt at selling our Ridgewood home, our real estate broker suggested that we have our home staged. Enter Kathy Barlotta, and the rest, as they say, is history.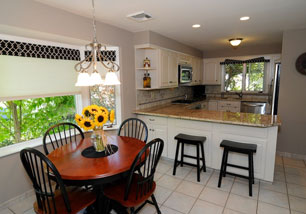 Kathy stepped in and made many suggestions, and actually procured the nuances she suggested, and provided some contractor advice that worked out well.
We sold our home and Kathy even helped us pack. When we found our "new" condo in Wyckoff, she helped us redecorate and unpack as well. She was right there when it became time to redesign our kitchen and even went appliance shopping with us!
Kathy has become one of the family, a trusted and respected resource, for staging, moving and redecorating. I have no doubt that we wouldn't be where we are today without Kathy, and recommend her services without hesitation."
- Mark D. Sherman, M.D., J.D.
---
"Kathy Barlotta's talent astounds me. I have had the pleasure of working with her as a stager for my business as well as a decorator for my own homes.
As a decorator, Kathy picked the perfect elements for both of my houses. She has talented people who work for her to bring her ideas to fruition.  The end results looked as if she reached inside my mind and envisioned exactly what I dreamed of.
At work as a realtor, I use Kathy as a stager for all of my listings. With each new listing, Kathy spends a couple of hours with the homeowners to advise them on how to prepare for selling their home.  This time is invaluable and many of my sellers hire Kathy after that initial consultation, and across the board they have all been thrilled with her and the results.
Homes staged by Kathy sell for more money and sell faster. Kathy is one of the most powerful tools I have as a realtor, and she is the most creative and talented person I know!"
-Nena Colligan, Keller Williams Realty
---
"Now, more than ever, it is so important for buyers to be "wowed" when they step through the door of a home. Unfortunately, not all homes have that wow factor and that is where Kathleen Barlotta Designs steps in. Not only does she have a keen eye for the subtle changes needed to make a home appeal to a buyer, but she does it with a seller's budget in mind.
I have referred many of my clients to Kathy over the years, and every one of my sellers has loved her enthusiasm, her professionalism, but most important of all, her ability to transform their home into a showcase. For any seller looking to get top dollar for their home, I would highly recommend Kathleen Barlotta Designs."
- Cindi Stadulis, Coldwell Banker Realtor Associate
---
"Kathy was a life saver! She was my general contractor, coordinating painters, floor refinisher, electrician and even the plumber! She handled everything from deciding on what pieces of furniture were worth saving for staging, which items to donate, to which items should go to the junk for removal.
Her design capabilities amazed me! She re-used and repurposed furniture that I thought was useless!  By adding paint, new handles and knobs she created stylish "new" furniture and mixed it in with Kathleen Barlotta Designs' wonderful or extensive inventory to create a friendly, warm beautiful home!
Living in Florida and selling in Glen Rock, NJ, the greatest gift Kathy gave me was piece of mind --- handling the whole project from start to finish, while always concerned about my dollar investment. All her hard work really paid off because I received a few offers and the house sold quickly and well over the market value!"
- Roger Greenwood, Glen Rock, NJ
---
"Hi Kathy,
I am so sorry that I have not sent you a thank you yet for the absolutely amazing job you did in my parents' house. I was reminded of it yester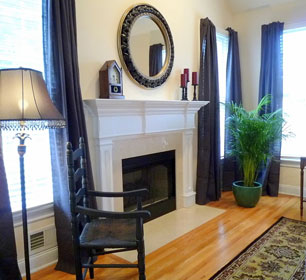 day when talking to a friend who is selling her house. I literally got goose bumps telling her about it. I know that sounds extreme, but the transformation of my parents' house was incredible! I know that the house was "well lived in" when we turned it over to you to work your magic. I feel you went above and beyond your job description to make that house shine. I know that you worked extra hard in putting away "stuff" that was in every corner of the house. I wish I could have seen it in person, because I could have soaked it all in. The photos were truly fabulous! The first one I saw was of the living room and I really wasn't even sure it was the same house. You helped us in so many ways that I am sure I can't name them all, but please know we are so grateful to you and all that you did for us. There is not a chance that the condo would have sold in such a short time without your amazing eye for detail and design.
Thank you! Thank you! Thank you!"
- Ann Mooradian, Wyckoff, NJ
---
"We never realized how wonderful our home could look until Kathleen Barlotta Designs staged ours. We wish that we had Kathy decorate our house when we first moved into it. That way we could have enjoyed the beauty of our home for years as opposed to just the few months that our home was staged! Realtors and potential buyers all commented on how beautifully the house showed, and we sold our house in a matter of only a few weeks. Thank you Kathy! You are incredibly talented and have an amazing eye for design and use of space. I would recommend Kathy to anyone who wants to sell their house quickly and for the best price.
Thanks again Kathy,"
- Juliana, Fair Lawn, NJ
---
"We can't recommend Kathleen Barlotta Designs highly enough! Kathy helped us redesign our kitchen and two bathrooms - her sense of color, eye for design and selection of materials has gotten compliments from everyone who's seen them. We never could've achieved the same results on our own - her services are affordable and incredibly worth it!
Good luck!"
- Monique, Glen Rock, NJ
---
"What can we say? After Kathleen Barlotta Designs staged my home, it sold for the asking price the first day! Kathy's ability to make beauty out of nothing amazes me! She made our house look like a home in a matter of days! She is currently working on decorating our new home and I couldn't be happier! Call her! You'll be glad you did!"
- Jessica and Brendan, Ridgewood/Liberty, NJ
---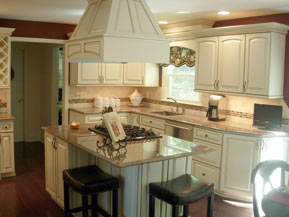 "It was a real pleasure working with Kathleen Barlotta Designs when we were redoing our kitchen and family room. Kathy gave us great ideas, always keeping our budget and personal preferences in mind. She was always professional, punctual and very willing to help out with appointments, contractors, etc.
I look forward to working with Kathy again on our next project."
- Barbara Buckley, Wanaque, NJ
---